Mezzanines installed nationwide across the UK
NSI Projects will design, manufacture and install your high-quality mezzanine floors increasing the space and productivity of your workplace. By working with the existing space in the building, mezzanine flooring will be an ideal space-saving solution for companies. Saving the hassle and expense of relocation or extension making them very cost-effective solutions. Warehouse mezzanines are also very flexible as they can be altered, extended and multi-tiered as your requirements change over time. Most of all we are here to help. Because of our years of experience, we will guide you in utilising the most out of your floor space. For a competitively priced mezzanine floor installation either contact us or call 0800 027 1966 to start a successful new project.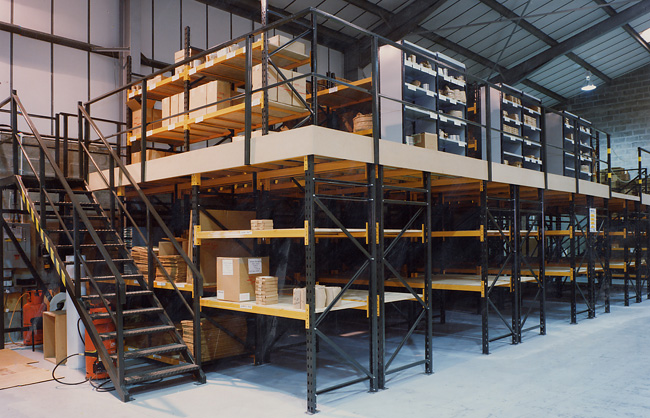 Mezzanine flooring benefits
A low-cost way to create extra floor space, saving money, time and eliminating the disruption of a site relocation.
Unlock your building's potential by utilising a mezzanine floor system to turn unused headroom into valuable floor space. Our multi-tier mezzanines are also available.
Set up a more spacious, appropriate working environment to expand your workspace, storage or office space. As a result, you will boost efficiency and productivity.
An NSI mezzanine can be moved, modified or dismantled due to its flexibility by design.
A quick and easily installed solution to meet your needs, with minimal disruption to your business. With the right health and safety regime in place, we will position your mezzanine flooring right over your existing production or storage area. And it may be quicker than you think – therefore installation of small floors can take as little as one day to complete.
How to build a mezzanine floor
What is the method to utilise that unused space? There are a number of factors to consider when thinking about how to build a mezzanine floor. These include load-bearing, materials, the intended use, when to install, and health and safety.
NSI have the required expertise to really know how to build mezzanine floors.
Load – First is to determine the load imposed when building mezzanines and have a structural engineer calculate the steelwork required. We ensure the resulting load on your concrete floor is within design tolerances. NSI will do all this for you as part of our professional mezzanine floor installation service.
Material – Second is determining the nature of the construction. The typical build material is chipboard, either moisture resistant, standard or an alternative material for heavier duty industrial mezzanine floors. Examples of heavy-duty materials include chequer plate steel or steel mesh panels.
Use – Consideration will have to be given to planning the building of the mezzanine floor with regards to safe evacuation of personnel, what the mezzanine floor construction will be used for, and location of stairs, lifts, etc.
Installation – You must also consider the ease of building mezzanine flooring. Particularly the safety of anyone installing the floor and also the access to the location of the build. Our installation service will resolve these problems for you. Our professional project managers are experienced in how to build mezzanine floors in the most difficult of circumstances.
Health & Safety – Protection of installers working at height is vital. Therefore, the use of the correct lifting and access equipment ensures the safety of the project. Two key areas of Health and Safety concern are the risk of falling from the "leading edge" as the decking material is laid and from the exposed perimeter of the floor before the handrail is fixed. NSI's method of how to build mezzanines offers peace of mind for anyone responsible for the safe installation of the industrial mezzanine. At NSI we use skilled installers trained to work at height and approved by SEMA. We take guidance from SEMA on the most up to date methods and technologies.
Future-Proofing – Finally, it would be NSI's strong advice to future-proof the design at the very outset. We will answer the question; what would be the next stage in your mezzanine floor construction extension or other premises expansion, and how can we plan for that now?
NSI Projects Mezzanines offer
Get a free no obligation site survey and quote to show you what will work best in your premises. Quotes include multiple storey layouts.

Vitally, our design team produces CAD designs knowing the full requirements of building regulations and safe means of escape. We'll then go on to submit all the paperwork for the

Building Control Regulations Approval

on your behalf.

We use only professional SEMA approved installation teams, therefore, causing minimal disruption to your operations.
---
Mezzanine Floors UK with a large number of blue chip clients and have a particularly strong following of SMEs, nationally, but especially in the North West of England around our Preston Lancashire base, through Manchester and Liverpool, Merseyside and in Cheshire and Yorkshire.
We are SEMA Approved
We have been awarded a Highly Commended Status by the Storage Equipment Manufacturers Association (SEMA).
READ MORE
Browse Our Catalogue
NSI Catalogue is a leading UK industrial supplier and workplace equipment company with over 20,000 items.
TAKE A LOOK