NSI are leading players in the SEMA Distributor Group. We have sat on the main SEMA Board, chaired the SEMA Distributor Group, and are one of a handful of companies in the UK to be audited to Highly Commended Status in the SDG Audit. For us pallet racking safety is a priority. 
We thus place great store in being at the forefront of advising our customers on a holistic System of Rack Safety. When considering such a system, we advise our customers that all these elements should be in place.
Firstly that the system has not just been bought on price, but has been designed and installed by a proven audited company, such as a member of the SDG.
That the rack supplied has also not just been bought on price, but been manufactured to recognised SEMA or FEM design standards. NSI would only supply from one of these manufacturers.
That full and proper loading notices are in place, with multiple designs if the rack differs in different runs. NSI supply these on all our projects as a matter of course.
That all staff are trained in what a loading notice says, and that they must not modify the rack in any way without having this first checked by a competent and qualified party.
That there is a culture of rack safety established where all operatives actively report any damage as part of looking after their own H&S – videos of rack collapses on YouTube can help to demonstrate the catastrophic and life-threatening nature of a rack collapse.
That any extensively damaged rack is downloaded immediately and the locations blocked off physically and on the WMS.
That a regime of local daily, weekly and monthly damage and housekeeping checks are made, and that staff are competent to do this. NSI can help with training courses by a qualified SARI inspector.
That annual or bi-annual full rack safety inspections are carried out by a SARI qualified inspector. NSI have a qualified SARI on their staff and are able to supply this service.
That all repairs are conducted according to the SEMA Red, Amber, Green classification system contained in SARI reports
That only competent and qualified companies are used to specify the materials supplied in the design of the repair and that installation is carried out by SIERs qualified teams following the design instructions.
DO NOT LET YOUR RACK DAMAGE OR POOR RACK REPAIR BE THE WEAKEST LINK THAT REMOVES THE INTEGRITY OF THE REST OF YOUR RACKING SYSTEM
See also: Pallet Racking Inspections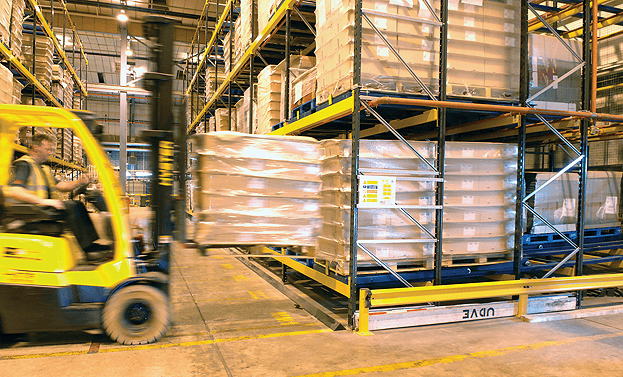 Our racks are manufactured to SEMA design standards
READ MORE >