With over 30 years' experience, NSI Projects supply and fit steel partitioning systems for work areas, factories and warehouses throughout the UK. Steel partitions are often overlooked as a possible solution to your work environment needs. However, they provide a cost-effective method of dividing your work space and offer a convenient alternative to the more traditional stud and board or block-built partitioning systems.
Our steel partitioning systems can be used to create offices within factories and warehouses, or to create clean room environments or private work areas, all with no mess and minimum disruption.
Steel partitions can come in a variety of different options to suit any budget and requirements. Whether it be single skin steel partitioning for a storage room or fully installed and fire rated double skin steel partitions for an office or clean room, we can offer a free no-obligation site visit to advise you as to what industrial partitioning systems would best suit your work environment.
Just as modern building techniques trend towards prefabricated buildings, our industrial steel partitioning sections are created in a choice of colours and arrive ready-made. The steel partitions are simply bolted to your existing industrial partitioning wall panels onsite. No wet trades, no plasterboard dust and no decorators – cost effective and minimal disruption to your business!
Our steel partitions can be wiped down, are dust free and can also form the basis of cleanroom construction environments. Double skin steel partitioning and single skin steel partitioning are both available.


What are the benefits of using steel partitions?
Industrial steel partitioning is a highly flexible solution for your work areas and offers the following benefits:
Double skin steel partitioning can be fire rated to one hour and beyond
Industrial steel partition walls can be used to divide tall buildings, more than 10 metres, with proven balustrade loadings on the edge of mezzanine floors
Steel partitions are strong and resilient to damage
Half glazed, fully glazed, double glazed, wire glass, toughened glass and pyroc glass options are all available in our steel partitions
Industrial partitions can be painted to match your corporate colours
Manufactured offsite, steel partitioning systems offer a dust-free, easy wipe down cleanroom environment
Industrial steel partitions can take ceiling spans from roof sections more than 7 metres.
A comprehensive range of accessories are also available to complement our steel industrial partitioning, such as drop-down and sliding hatches, louvres, vents and locking systems.
Find out more about our steel partitioning systems
NSI Projects offer steel partitioning for many blue-chip clients across the UK. We have a particularly strong following of SMEs in the north-west of England around our base in Preston, Lancashire, as well as in Manchester and Liverpool, and throughout Merseyside, Cheshire and Yorkshire.
We're happy to provide an initial no-obligation consultation, even if your steel partitioning project is many months away; it's never too early to begin the planning process! Call our experts today on 0800 027 1966 or complete our online contact form.
Summary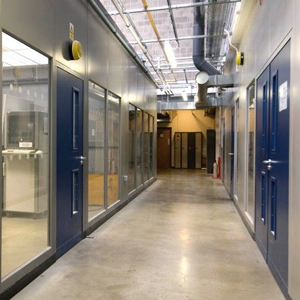 Service Type
Provider Name
NSI Projects
,
NSI House
,
Station Brow
,
Leyland Lancashire
-
PR25 3NZ
,
Telephone No.0800 027 1966.
Area
UK, North West, Preston, Lancashire, Manchester, Liverpool, Merseyside, Cheshire, Yorkshire
Description
Over 30 years experience in delivering great projects. Industrial steel partitioning systems available in single skin, double skin or mesh panels. Call our experts today on 0800 027 1966.
---
We work nationally for Steel Partitioning across the UK with a large number of blue chip clients and have a particularly strong following of SMEs, nationally, but especially in the North West of England around our Preston Lancashire base, through Manchester and Liverpool, Merseyside and in Cheshire and Yorkshire.
We are SEMA Approved
We have been awarded a Highly Commended Status by the Storage Equipment Manufacturers Association (SEMA).
READ MORE

Browse Our Catalogue
NSI Catalogue is a leading UK industrial supplier and workplace equipment company with over 20,000 items.
TAKE A LOOK